Accommodation
This year we will be making bookings with both Hotel Das Alpenhaus and Pension Alpenrose on behalf of our guests.
For those who prefer to stay elsewhere in the village we would kindly ask that you book directly with your chosen venue.
Full details of all our accommodation pricing options can be found on our "Prices" page.
Hotel Das Alpenhaus

Hotel Das Alpenhaus is the only hotel in which we offer accommodation. Our guests have loved the 4 star Hotel Das Alpenhaus over the last 2 seasons and it has proven to be a great success.  We are delighted to once again offer accommodation in Das Alpenhaus.
We are delighted to say that we have managed to retain the holiday price for the 2020 season during November and December.
The Das Alpenhaus is a beautiful 4 star hotel decorated in an upmarket and contemporary style and is ideal for those wishing some luxury during their holiday.  The hotel is based in the centre of Kaprun and offers:
Spa on 2 levels with indoor pool providing panoramic views and access to the garden
6 saunas and 4 relaxation rooms
Varied range of beauty treatments, well-being treatments and specialist treatments
Fitness room with state-of-the-art cardio and strength equipment
Regional Alpenhaus cuisine and a range of vegan meals daily
Heated outdoor pool
Large sun terrace with sun loungers providing views to the Kitzsteinhorn
Included in this package is:
Comprehensive breakfast buffet with the best in regional produce
Skier's snack with a daily changing dish
4 course gourmet evening meals on 7 nights with choice of menu, or alternatively an Alpenhaus themed buffet.  Wine is not included.
Pension Alpenrose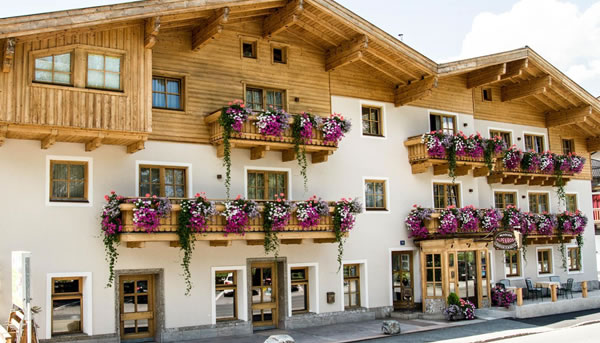 We have used the Pension Alpenrose on a regular basis and this fantastic family run hotel is highly recommended. The hotel is 3 star, centrally located with an on-site spa!
Flexible Holiday Option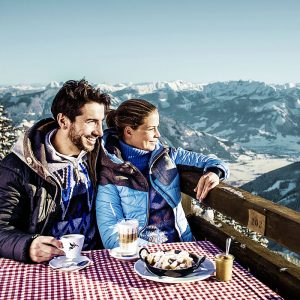 Prefer to organise your own accommodation? There are many options in Kaprun to choose from.
Please ensure that you reserve your course place and return transfer with us before booking accommodation and flights.
The European Sports-Region of Zell am See – Kaprun is a paradise for athletes and active holiday-makers as well as for gourmets. The two neighbouring resorts fit together hand in glove, like a finely tuned dance team where both partners have learned to subtly compliment each other for the best possible performance.
Kaprun
Kaprun village is situated in the heart of the Salzburg Region of Austria, approximately 80km from Salzburg which has a very convenient and well serviced international airport. What makes Kaprun so special is its impressive setting, nestled at the foot of the Kitzsteinhorn glacier in the midst of the majestic Hohe Tauern mountain range.
Kaprun is a traditional Austrian village and on the surface puts on a quieter face than does Zell am See, partly because it is much smaller in scale. However, its laid-back atmosphere sets a more relaxing pace, and the village common gives it the air of a small New England college town.
The 'Optimum' Sports Centre is the pride of the village, with its fantastic facilities. There's plenty of off piste action from lively bars and discos to the more traditional rustic Stubes. The 'Optimum' will upgrade your lift pass to a 'swim and ski' pass giving you unlimited entrance to the indoor/outdoor pool and steam room. There is also ice skating, bowling, night skiing and tobogganing.
Kaprun has recently completed a new Alpine Center at the top of the old Gletscherbahn.
Zell am See
Built in the middle ages, Zell am See is a 20-minute drive away from Kaprun.  It is a year-round resort because of it's idyllic setting on a flat semicircular piece of land that juts into a delicious alpine lake that has been squeezed from the mountains ringing the shore. Cream-coloured buildings huddle around the well-preserved 13th-century church of St. Hippolyt, and the Vogtturm (city tower) which dominate Zell's skyline, giving it the air of a medieval mountain town rather than a bustling ski village.
One could wander for hours through the town's winding streets and have no trouble envisioning merchants and traders from bygone days going about their business.
Today the streets of Zell are still lined with unpretentious shops—sports stores, well-stocked markets, intriguing crafts shops. You'll also find cosy cafes, gasthauses and restaurants filled with locals and tourists alike. Zell am See, with a year-round population of almost 10,000, has honed the fine art of balancing the fantasy sought by tourists with the real needs of its citizens.
After dark, Zell am See offers a wide variety of bars and night clubs for all tastes, from the lively and appropriately named Crazy Daisy (Irish Daisy) to the more serene atmosphere of the cafes overlooking the lake. It is a joy to walk around and soak up its cosmopolitan atmosphere.
Sports Activities
You will find plenty of off-piste resort sporting activities and après ski venues from lively bars and discos to the more quaint, rustic stubes.
Non Skiing
'Optimum' Sports Centre with indoor swimming pool and fitness studio, indoor tennis and squash centre, small ice skating rink, sledging, curling and many more fun amenities.
Eating Out
There is a superb selection of over 25 restaurants catering for all tastes and budgets, from fondues to pizzas. Typical three-course dinner from €15-20